2021 Wine Awards – Winter
December 15, 2021
The Community Wine Awards recognize individuals and organizations that make Paso Robles Wine Country a better place to live and work. For the third year in a row, we called for nominations for our Wine Awards from the Paso Robles Wine Country Alliance membership, and the awards are voted on by their peers. It is exciting to announce the recipients of the 2021 Vineyard Worker, Cellar Master, and Environmental Steward awards.
Vineyard Worker of the Year
It all starts in the vineyard and keeping a careful eye on how the vineyard is maintained and cultivated throughout the year takes a lot of talent and perseverance. The vineyard team member who has contributed the most to helping their team cultivate and harvest exceptional Paso Robles fruit is recognized in this award. Through leadership, dedication, or spirit, this team member deserves recognition for their time spent with boots in the dirt and hands on the vines.
Mauricio Rendon, Vineyard Manager for Gelfand Vineyard
Mauricio Rendon has been the backbone of Gelfand Vineyards, soon to be known as Dresser Winery by Gelfand Vineyards, for 17 years.  He has led the farming of the vineyard while also jumping in to help with any needs throughout the winery and vineyard property including its expansion.  While his focus is around maintaining and ensuring the success of the grapes grown on property, he also is quick to help with management of the property overall and in many facets of the winemaking process.  Mauricio's experience with the grapes grown on property plays a central role in influencing our harvest and fermentation decisions to ensure we meet ours, and our guests' and club members', expectations.
With a small team of just three people at Gelfand Vineyards, Mauricio's intimate knowledge and experience with the estate vineyard is central to our winery and vineyard's growth and success.
Cellar Worker of the Year
The cellar team is the backbone of the winery, through exceptional organization and careful management, this team keeps the winery's vision for high-quality wine at the forefront. This award goes to a member of the cellar team who has contributed the most to help their team produce outstanding Paso Robles wine through leadership, dedication, or spirit, this cellar team member doesn't shy away from getting dirty and deserves recognition.
Since joining Vina Robles in 2012, Maria (aka Concha) has quickly established herself as the heart and soul as well as "ojos" of our cellar and has become a solid pillar to our winemaking team. From running any of the cellar/crush operations as well as lab analysis, she leads by example – never idle and tirelessly jumping into the next task with feet and hands, presence of mind, and unwavering attention to detail. More so it is Concha's inner self-awareness shining through her everyday actions that inspire us all – always striving not just to better herself but those fortunate to be around her as well. This year when our Cellar Master was out, she stepped in without hesitation to masterfully assume the responsibilities of setting up and managing both bottling and cellar operations without missing a beat. Bravo Concha!
Concha has lived in the Paso Robles area for over 20 years working her way from vineyards into a few local winery cellars prior to joining Vina Robles. She has an extensive family here in Paso Robles including her husband, Francisco Rodriquez, and three daughters – Christina, Valeria, and Vanessa. She enjoys living in the area, going to the beach, and spending time with family and friends.
Environmental Steward of the Year
The business that has undertaken the greatest effort to ensure their operations are managed with the best 'green' business standards. Whether in the vineyard, in production, or stewardship, this business has shown leadership that deserves this award.
Cris and JoAnn Cherry have been long-time champions of organic agriculture to raising the bar in the local food and beverage industries. They are among a small group of local pioneering farmers who maintain that the best wines are made without artificial and/or chemical interventions that prove harmful to the surrounding ecosystem and community. The benefits of farming organically and regeneratively far outweigh the costs and the proof is in the quality of the wine.
As restauranteurs in the early 90's, they sourced local organic produce and humanely farmed meats. From the inception of their Villa Creek wine label in 2001, vineyard practices were always of utmost concern. Certified organic and biodynamic vineyards were few in San Luis Obispo County in the early 2000's, so Cris and JoAnn set about planting their own on their 60-acre west Paso Robles ranch known as the MAHA Estate.
The MAHA Estate was planted to wine grapes in 2012 and received its CCOF organic and Demeter Biodynamic certifications in 2015. This was the same year the first wine grapes were harvested off the property. A biodiverse farm ecosystem is key to a balanced and healthy farm. Cover crops, sheep rotation, composting, and no-till farming are just a few of the practices they employ to maintain the health and vibrance of the soil and in turn the vineyard.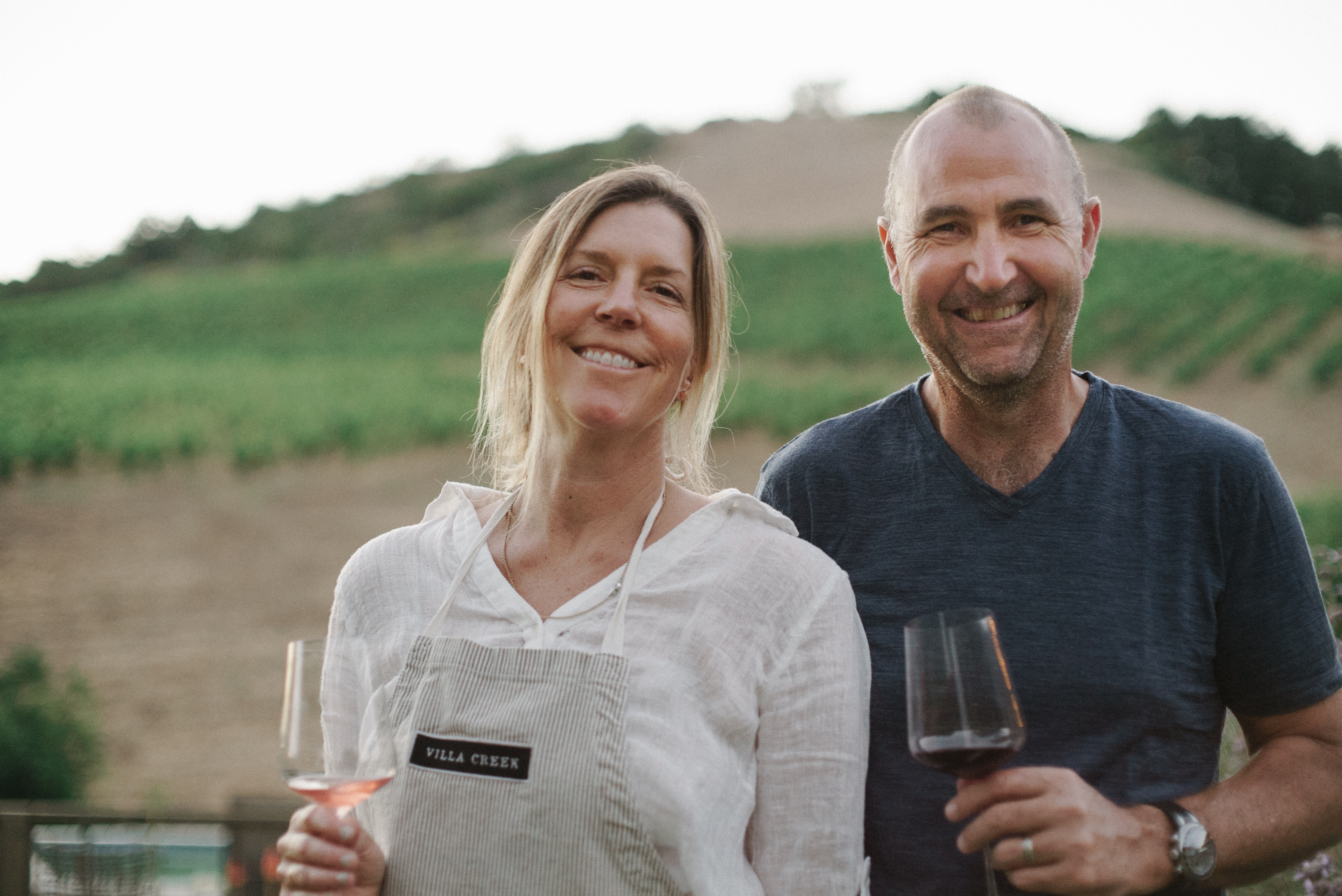 While the various certifications are not without flaws, the Cherry's believe that their organic and biodynamic certifications help to increase consumer education and awareness while supporting legislation that favors environmentally-focused policies. Cris and JoAnn hope they, along with the growing base of environmentally aware wine consumers, can influence other local grape growers to embrace cleaner farming practices and get certified. As evidenced by recent global events, our planet needs everyone to "farm like the world depends on it". We hope more farmers and brands look beyond their sustainable certifications, as the greenwashing narrative grows, and get certified in organic and biodynamic practices.